I have a confession. There's man who stole my heart and it's not my husband.
It's Norman Reedus. From the first time I saw the Boondock Saints when I was at the tender age of 16, I was drawn to him. I wasn't sure if it was his badassery or his steely gaze, but I was hooked. Each time he shot a gun, Cupid took a shot at me.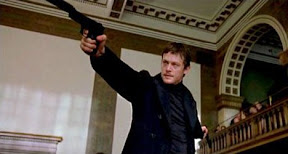 We need a Connor & Murphy MacManus in every major city, and we need them like yesterday.
First off, we'll get superficialities out of the way. He's GORGEOUS! Just look at him! Norman Reedus has a beautiful body. He's fit, healthy and takes care of himself (other than his affinity for cigarettes, lol). His face is ruggedly handsome. His eyes burn straight through you. Such a fabulous specimen of man meat. *Sigh*
See? Beautiful!
And he has a Harley. That's just yum!
Ok, here's where we get a little deep: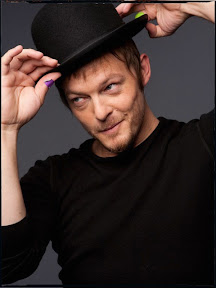 He's traveled the world. Living, taking pictures, making movies, just genuinely experiencing life. He's big on charitable contributions. Even recently donating all the money from the sell of his DVD 3 Films to Japan relief. (You can bet when my copy comes in, I'm posting about what I thought about it!) He's a celebrity with a heart. Not many of those now days!
Even animals love him. How could you not want to give him a kiss?
He's versatile. While he usually plays bad ass, he can do what ever he wants. Can you name someone else who can be an Irish Bostonian who kills bad guys, a zombie killing redneck, and the Messiah's betrayer? He even looks good in drag.
Special thanks to Dixon's Vixens for posting a clip of the above scene for me for my 26th birthday! Love you ladies! :)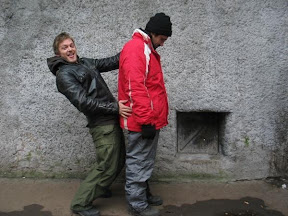 He has fun! I can't stand to see a negative or boring person. From what I can tell from the Internet and people I know who has met him, he's genuine, engaging, sincere and funny. Ask a girl what she wants in a man and she'll list those qualities. Go on, ask someone, I'll wait…
Norman is a family man. Everything he does, he does for his son, Mingus (named after the legendary jazz great Charles Mingus). As a mother, let me tell you, nothing is better than a man who is a good father. As a child who grew up without a father, it makes me really happy to see a man I think is great actually be a man and be there for his kid. He even shows off wallet pictures like the rest of us.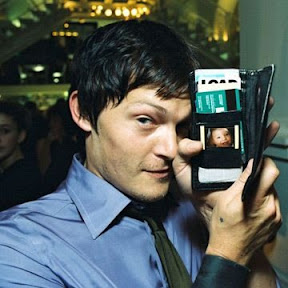 Norman Reedus is no normal man. He's a legend in his own time. He's an artist, actor, photographer, painter, sculptor, writer, video artist, director, producer, biker, and father. He's got legions of dedicated fans, and I am very proud to say I am one of them. I'm one of Dixon's Vixens. Haven't heard of us? That's just because we haven't taken over the world yet.
Hubs and I have always each had a "celebrity lay" picked out. His has changed from Tyra Banks to Rosario Dawson. (Watch her dancing on the Mooby's roof in Clerks 2 and you'll understand!) Mine has always been Norman Reedus.
FYI: UrbanDictionary.com defines "celebrity lay" as "A specific celebrity you and your significant other mutually agreed that it would be okay to have sex with should the two of you ever meet in public and have a one night stand."
Now, I know chances I'll meet him are low, AND chances he'll be attracted to me are slim to none, but it's nice to know hubs says I'm cool to do it. You ever know, pigs could grow wings; evolution, right?
Disclaimer: Norman Reedus did not in any way, shape, or form, asked me to write this or gave me any compensation to write this. I jacked all images from Google image search and just assumed they fell under the Public Domain Usage thingy. Please don't sue, I'm broke anyways. I just wanted to share my Reedus obsession with Bloggywood! While I was not offered anything to write this, I will be more than happy to receive any swag you may want to send my way.
- Whether you love me or hate me, you know who I am.